~ Vicki Moss's Blog ~


---
-- Welcome -- About Me -- Blog -- Speaker Topics -- Fiction -- Non-Fiction -- Young Adult -- Kids -- Inspirational -- Awards --

---
-- View -- Memoir -- Flowers -- Tea Time -- Photos -- Poetry -- Faq -- Links -- My Garden -- Bookstore -- General Store --
---









Scroll down to the bottom for archived articles



---

Posted May 16, 2013


ROGUE HEARTS
Making Sense of the Boston Marathon Bombings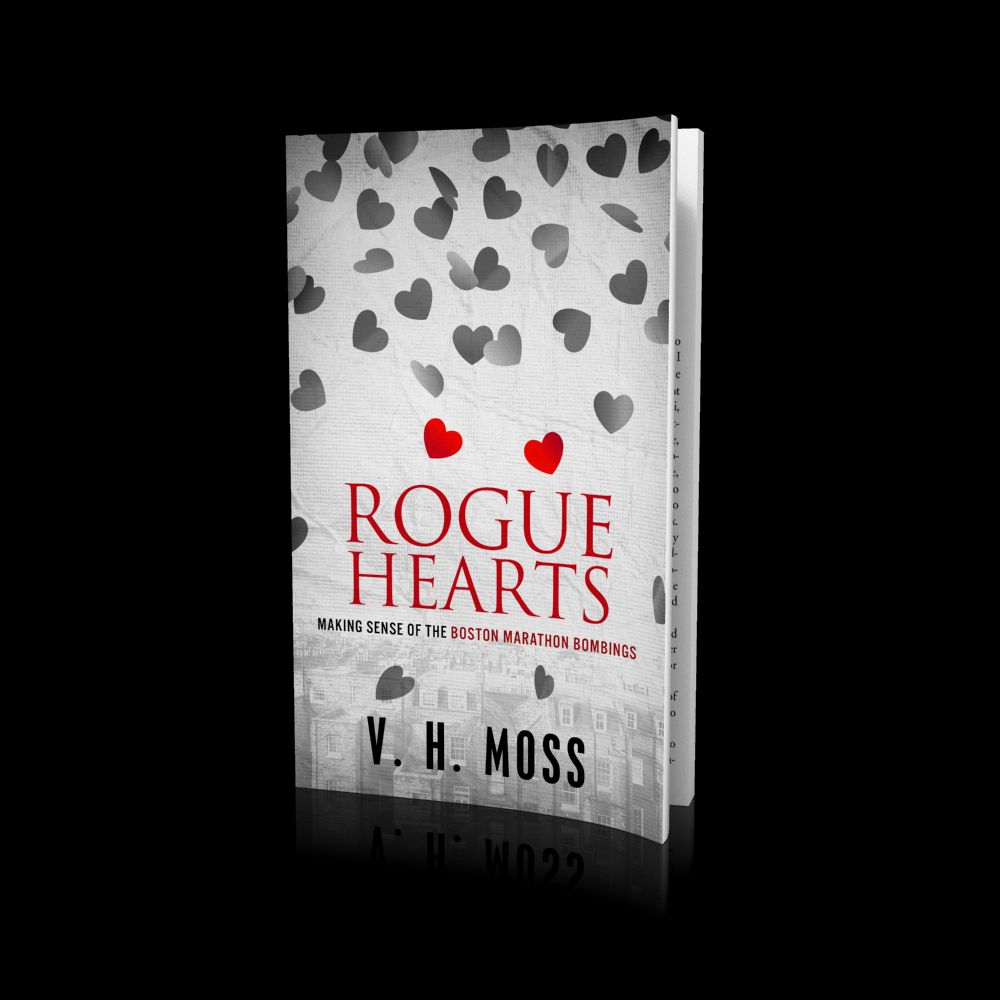 I've been taking a break from the writing blog to actually *write more* -- something writers must do every now and then.

During this writing time, there's been a plethora of subjects to write about. Unfortunately, the Boston Marathon bombing event has been one of those tragic subjects. The dust is still settling in regard to the terrorist attack, however, I've put together an ebook, Rogue Hearts for now, available on Amazon.com for $2.99--with my thoughts.

Another informative book to read, explaining why young Arab men turn to jihad, is Nonie Darwish's Now They Call Me Infidel--Why I Renounced Jihad --For America, Irael, And The War On Terror. Darwish is a Muslim Shahid's Daughter, who was born in Cairo and spent her childhood in Egypt and Gaza. Before emigrating to America in 1978, she worked as a journalist in Egypt. Darwish now leads the group Arabs for Israel and lectures around the country. (A shahid is a "martyr" and the government normally gives a generous pension to families of martyrs, however, for Darwish's family, this pension was eventually reduced because of the growing martyr numbers.)

Her book gives incredible insight into the Arab psyche. She says, "Somewhere deep down, I could not accept a culture that was willing to orphan its own children in its obsessive hatred of Jews, that was ready to sacrifice lives and the health of its family structure over a few miles of land. Egyptians acted as though the West Bank and Gaza were taken from them, even though they were never Egyptian land. However, even if I could, I dared not give words to my feelings. But in my mind, as I grew into my teenage years, I continued to question the culture of hatred that snatched away my father for nothing."



Comments anyone?



If you would like to comment or have questions about this article, email me vmoss@livingwaterfiction.com







---

Posted January 24, 2013


MORE THAN MEATLOAF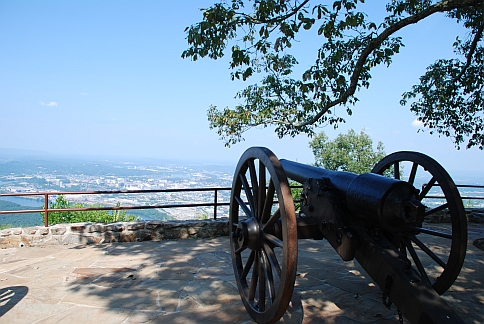 Tucked in the middle of a small valley between a swift running creek and a verdant hillside in Chattanooga, TN, sits Precept Ministries International's (PMI) Kinser building where people come from all over the world to study God's word inductively with the Arthurs: Jack, Kay, and their son David who is now CEO. What does the word inductive mean for Bible students? Each verse is weighed and balanced against other verses from the Old and New Testaments to make sure the Word of God is handled carefully and interpreted correctly, nothing taken out of context.

And I can promise, the studies are enlightening, inspiring, and fun, and the lunches served by Mark Holland--Bellaire Catering--after Kay and David lecture are more than satisfying and also dished up with the best rolls and sweet tea in town. And yes, I confess, I'm especially infatuated with Mark's meatloaf. We have a saying in the South: "I'll do such n' such," or "I'll be there if the creek doesn't rise, Lord willing." Well, during heavy spring rains the creek sometimes does rise and floods the lower section of the parking lot and it's simply no fun to leave the house. But if it's meatloaf day and Mark's managed to float his car past the flood waters, you can bet I'll be there even if I have to row in.

But not only are we physically fed delicious food at PMI while dining with our friends, we're spiritually fed. And Kay and David take turns making the Bible come to life. Before lectures and tapings, we spend an hour in class working on pilot studies being prepared for publication. This quarter, Kay's teaching from the book of Luke. She's still going strong, traveling to Israel for tours, and fighting the good fight with eyes that sparkle. When celebrating a birthday this year, she'll be turning an awe inspiring 80. (You can tell I'm the one who eats more than my share of Mark's meatloaf.)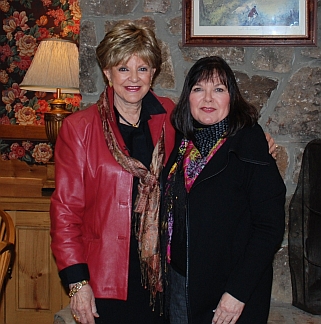 As usual during class, we students are soaking in God's word like sponges even though some of us have studied the book of Luke all of our lives--we're still learning. Something necessary for Christian writers. Our classes are where we get to know one another, share hurts and pains. Joyful moments. Victories are sometimes over vainglory, sometimes trials end beyond triumphant. And most times our class is serious and yet on occasion, hilariously humorous. How can Bible study be serious and funny you ask? Shouldn't Bible study be serious all of the time?
Have you ever thought about the story in Luke 2:41-51 about Jesus being left behind in Jerusalem when he was a young boy and his parents went back to search for him everywhere before finding him in the temple? The train of thought in class went something like this: "Can you imagine that happening--Mary and Joseph forgetting their child? Who forgets their child? And Jesus at that?" At least three of us in the classroom were snickering and one woman shared her story about once losing a child for a few minutes. Another student pointed out, "Remember the movie Home Alone?" And of course, I had to share the reason I was choking back laughter in the back of the room.
Once upon a time, I was with my mother and some relatives visiting a quaint church in the country on a dripping-day-hot Sunday morning. As women do in the country during sermons, we pushed the humid air around with tractor advertisements stapled to wooden tongue depressors touted as church air conditioning, chatted with friends and acquaintances after the service for a bit, and instructed four of Mother's grandchildren to get in the car so we could leave. With the last door shut and tires crunching gravel, we adults were engrossed in deep meaningful conversation--surely it had to be heaven inspired to cause what happened next--Mother said, "Are all of the children in the car?" as she sped towards home.
"Head count!"
My girls, of course, were the obedient angelic cherubs and accounted for, but lo and behold, someone declared one devil child missing. Where was the little renegade? Frantic, I looked through the back window of the car and six-year-old Micah (not his real name but he knows who he is) was full-out-galloping behind the car chasing tail lights, squalling, and at the same time, eating gravel dust while slinging tears. Of course, all of the other kid faces were mashed up against the back window smudging the glass, and howling like hyenas to see the "fallen angel," while I held my stomach to keep from laughing so hard. Micah's mother glared at me with an arched eyebrow, pointed a finger that wagged and threatened me within an inch of my life. "Do not breathe one word to his Daddy about this." Serious emphasis on the first "D."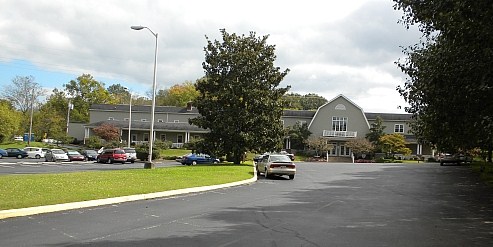 So all of our classroom stories and comments gave us new insight as to how Jesus could have been left behind on the trip home after attending the Feast of the Passover. While the families traveled back to their home towns from Jerusalem in caravans, cousins played and ran back and forth visiting different relatives and childhood friends while parents chatted and told stories about Passover week activities and discussed awesome happenings during worship. I can only imagine Mary leaving the women to approach her husband, finally curious about their son's whereabouts, in something akin to King James English since I do not know Aramaic. "Joseph, dearest, where art Jesus?"
"Hello darling, I thought he was with thee or with his cousin, Elizabeth's son John."
"Oh no, I thought he was with thee!"
"No, I kiddeth thee not, I thought he was with thee!"
I imagined Joseph and Mary frantically running from the front to the back of the caravan, searching to the tail end of the last human-bearing beast. But Jesus wasn't running behind to catch up with surly camels nor was he eating donkey dust. Jesus had more important things to do.
And after humorous examples were shared about how easy it was to forget a child when distracted and after I'd laid my imagined King James bad usage to rest, we studied nothing but God breathed truth. When they found Jesus in the temple he said, "'Why were you searching for me?' ...'Didn't you know I had to be in my Father's house?' But they did not understand what he was saying to them."
Nor would Mary understand more until she stood at the foot of the cross and gazed up in anguish at the little boy grown into a man, sentenced to die to save us from our sins--becoming a Savior to all who believe and accept Him. Mary wouldn't totally understand the significance of his death until her Son was raised from the grave. Wonderful truths to ingest and digest. But I'm getting ahead of Luke.
So, if you can make it--we have students travel to class from several adjoining states--Jack, Kay, and David invite you to come and dine with us. There's so much meat to these Bible stories they teach. And so much more than mighty fine meatloaf. They'll teach you how to dine--not just on delicious rolls--but the Bread of Life--Jesus. Can I get an amen?
"Then Jesus declared, 'I am the bread of life. Whoever comes to me will never go hungry, and whoever believes in me will never be thirsty.'" John 6:35 (NIV)
P.S. I'll see you there if the creek doesn't rise, Lord willing!




Comments anyone?



If you would like to comment or have questions about this article, email me vmoss@livingwaterfiction.com
Love your King James version! Great post... ~Carol Weeks


Thanks Carol -- amazing what the mind thinks about when pondering a Bible passage.





---

Posted January 16, 2013


LOYALTY




Milestones Media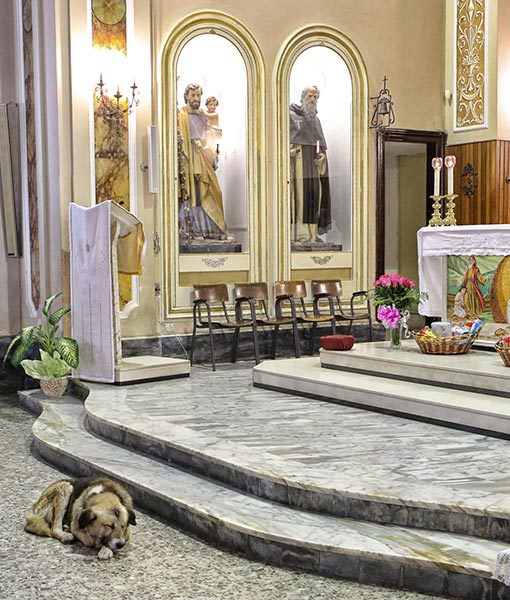 A following story was recently posted by the Daily Dish's AFP:
ROME - "Since his owner died two months ago, Tommy the dog has not missed a single mass in the small church in southern Italy where his mistress's funeral was held, Italian media said Wednesday."
When I read this story and saw the photo, I couldn't help but think that these days dogs are more loyal than most people. Especially in an era when money, fame, and fortune is more important than being true to friends and country. Some people work for both the bad guys and the so-called good guys.
Some people sell guns and weapons of mass destruction to the enemy who turn around and point them back at us.
And as for government shenanigans, we have a few whistle blowers, however, most are too afraid to speak out and instead take a pay-off to help with early retirement.
Have you ever owned a pet who was this loyal? Does this photograph and story give you any ideas for a writing project? Sound like a hook for a dystopian novel?








Comments anyone?


If you would like to comment or have questions about this article, email me vmoss@livingwaterfiction.com







---

Posted December 19, 2012


CHRISTMAS IN THE TRENCHES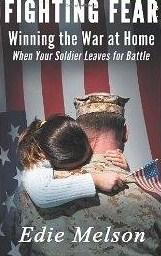 Here it is Christmas 2012 and our soldiers are still in the trenches in Afghanistan, Iraq, and other locations around the world.
I don't have sons or daughters in the military so I've never felt the fear and anxiety caused by having a child deployed. However, after reading Edie Melson's book Fighting Fear: Winning the war at Home When Your Soldier Leaves for Battle, I have a greater appreciation of what mothers and wives must go through when a loved one leaves for war zones.
One thing I do remember are my Dad's stories about his four years spent as a paratrooper during WWII and in particular, one funny story that happened during the Christmas holidays. Holidays for those back at home in the States, but for those slugging it out in Europe, war as usual on the front.
The American soldiers and allies had pushed the Germans back into their heartland and were now fighting their way through knee-deep snow and as deep in some places as a man was tall. The paratroopers were usually dropped into enemy territory or fighting on the front lines. Sometimes, they dug fox holes. Most times, they kept pushing forward. And at night, evergreen boughs were strategically placed beneath trees to make a simple resting place. If the soldiers' bodies weren't next to the dampness, their teeth didn't chatter quite as hard and their spines didn't ache quite as badly. At one point, Daddy was so ill with a high fever that his commanding officer allowed him back to the medics. However, a doctor gave him an aspirin and sent him back to the front lines. All of the men were thinking about families back home and the warmth from homeplace hearths. Frozen Germany was a long way from those welcoming fireplaces.
Everything on the terrain was covered in white except for small portions peeking green from the trees. Some soldiers wore white military issued garb to keep from standing out and becoming a target for the enemy. It was doubtful Santa would find a soul in the neck of the woods they were slogging through. The freezing temperatures were causing toes to freeze. Fingers froze to gun barrels. Morale wasn't bad, however, it ebbed at low tide. What were the old folks doing back home? Everyone was missing their loved ones. At twenty-two, Daddy was considered an old man since only a handful of paratroopers out of his company of approximately 125 men had made it through the entire war. Fear was ever present for them and for those worrying back home. Would they even make it out alive since they were so far ahead of backup troops?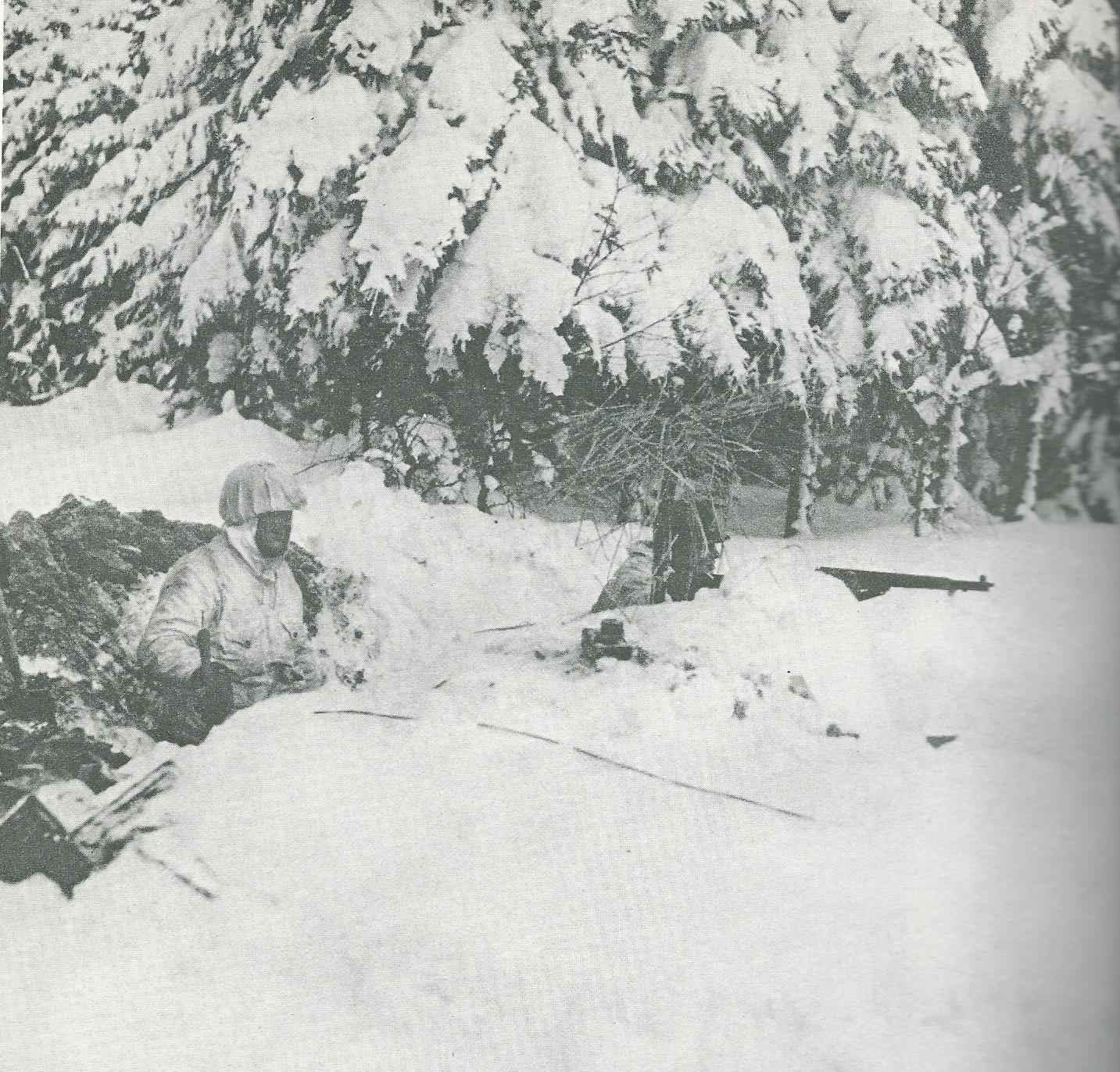 And all Daddy could think about was a cup of hot coffee and pulling his feet beneath his mama's table for a slice of country ham and a homemade biscuit drenched in sawmill gravy. A good hot meal would have been Christmas enough.
Yet one day, during the soldiers' struggles and advance to end the war, a portion of the mail made it through. And when one of the married soldiers opened a Christmas package from his wife, everyone had the biggest surprise in their military careers. What the soldier--Amburgy-- pulled out of the package was a tomato red union suit--long johns--with a flap in the back. The other paratroopers guffawed and had a huge laugh from that one ice breaker; there they were trying to hide from the enemy, and wearing red when nature called would have drawn in enemy fire like a bull attracted to a matador's red cape. The first olé could have been a bummer. (pardon the pun)
So, what can we send our soldiers this Christmas? They always love food. One mom's soldier in Edie's book, Fighting Fear, requested food because soldiers grow tired of dry military fare.
I once sent dog treats, dog toys, and flea collars for Angel Company's Yahya Khel Attack Dogs. Angel Company's four-legged friends help keep them alive by alerting them to strangers who might be carrying bombs.
But the most important thing we can offer is prayer. Prayer is free. We can all send out prayers. Not only for the soldiers but for the loved ones at home struggling with fear until their sons and husbands return.
In closing, Daddy didn't say if Amburgy used the long johns to kindle a fire or carried them with him until the war ended; at least the soldier was comforted by the thought that his sweet wife Connie was thinking about his needs. But Dad did say that even though Santa didn't find him that Christmas in Germany, the folks at a church back home were sending out special gifts he didn't know about -- prayers for him during the celebration of the Saviour's birth. Those prayer warriors knew Santa might not be a sure thing and show up, however, they knew Jesus could find a lonely soldier in the deepest, scariest forrest on the other side of an ocean far away from home.
And if you do know of someone who needs to learn how to fight fear while their soldier is deployed, Edie's book can be ordered through Amazon and Barnes and Noble and would make a great Christmas gift. But also remember this verse: "Cast your cares on the Lord and He will sustain you; he will never let the righteous be shaken." Psalm 55:22 NIV
Let me know if you can think of other good Christmas gifts for our soldiers and I'll post them in the comments section.
(WWII photo from the military archives.)



Comments anyone?


If you would like to comment or have questions about this article, email me vmoss@livingwaterfiction.com





Great war story, Vicki. Our troops need covered. ~Irmgard Williams, writer, adjunct professor Trevecca University




Yes Irmgard, if we don't have loved ones deployed, we tend to get lax in our prayers for our soldiers, or I do, especially when I stay so busy.




Wonderful blog, Vicki. Makes me think of my own dad, who fought in WWII. Thanks for sharing. ~Emily Sue Harvey, author, Cocoon, Homefires




You're welcome Susie. Glad you enjoyed the article.



If you would like to comment or have questions about this article, email me vmoss@livingwaterfiction.com




---

Posted December 11, 2012


MAKING DO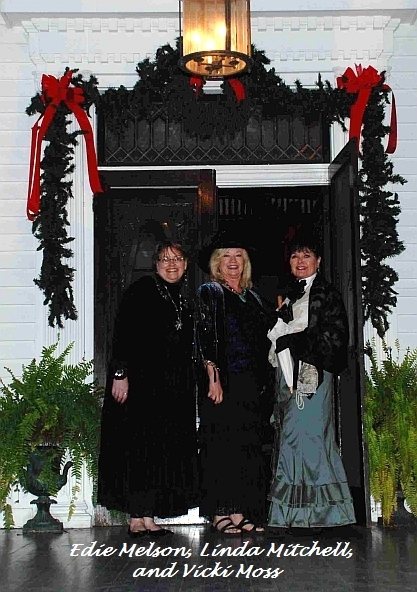 Once upon a time, I had a riding school on my farm and flew to a college in New York State to become certified to assist in teaching horseback riding lessons. The equestrian instructor of the college dropped me off at an old farm house that served as a college dorm. I asked her what I was supposed to do for dinner. She grinned and looking like one of Hitler's SS men said, "Make do."
Though I am a Southerner and my ancestors have been "making do" ever since the Civil War, after a comment like that, I relished the thought of stealing food from the farm house frig like General Sherman's soldiers did on his scorched earth march from Atlanta to Savannah. His soldiers called it requisitioning. The Confederate Calvary called the requisitioners "bummers" and foragers and lynched them.
However, after my initial shock, I couldn't bring myself to "make do" and forage from one of the college students' freezer stash. It might be their last meal before Christmas break. I refused to resort to stealing. And the thought of having my neck stretched from a lynching was most unpleasant. What to do? I had traveled all day and was starving. Fasting wasn't an option. I had to ride a couple of tons of horse flesh the next day and needed my strength.
Luckily, there was another woman there who had driven from Texas in her car. And luckily, I had a few dollars and bribed her to take me to a restaurant. I "made do." And my new best friend made some money.
The reason I'm telling you that story is to bring you up to date on my excursions. When asked to be a part of the faculty for the recent Lightning Bug Literary Festival, I really didn't want to go out and spend big bucks for a Victorian costume to wear to the Saturday night gala banquet at the Jiggetts House. Yet, I didn't want to be a party pooper either. How would I make do?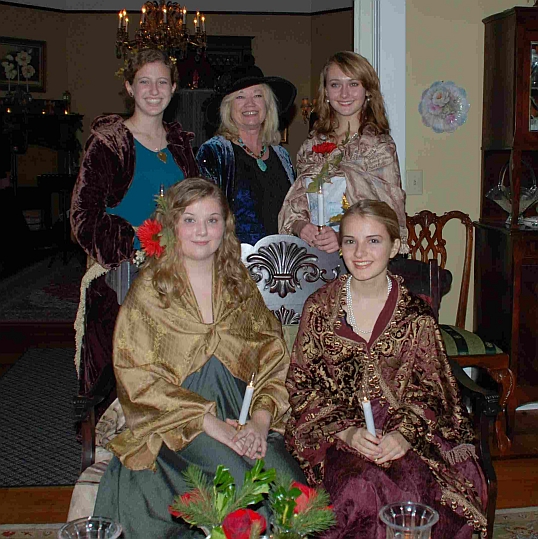 Resolved to have some fun, I sashayed into the guest bedroom and confiscated the Battenburg lace parasol and attached a big black hair bow. A hair bow left over from the days when my children were required to wear "bows 'til bedtime." Then, I decided I could squeeze into the required blouse I wore when jumping horses in a side saddle back in the day. If I held my breath and "ate like a bird" as Scarlett's Mammy called it in Gone with the Wind, I might last the night. The hair pins and brown doughnut required to make a hair bun when horse showing were in their usual drawer spot so I snatched up those items and threw them into my suitcase. The shawl decision was a toss up--should I wear black or the beige laced shawl with long fringe that served as a prop for the violin that rested on the piano. I knew that black covered a multitude of sins including gluttony and obvious extra pounds. No-brainer. Black it would be--and it would match the long gloves with ruffles up to the elbows I found in the armoire.
The only thing I had to buy to regress back in time was a long Victorian looking skirt, a head-band hat, and a couple of floppy flowers, all on sale. Digging out the Victorian draw string purse didn't take too long, and I was set.
Once in Canton, MS, I was amazed at the ingenuity of those young ladies who didn't get the memo that we were decking out the halls with boughs of holly and Victorian costumes. A quick trip to a local store for shower curtains and a few safety pins had them in business with bustles and capes that made the rest of us look like amateur actors.
Note: That's Brian Bird of Believe Pictures sitting on the porch to the right and it looks like his wheels might be turning about how to cut movie production costumes in his next full feature film. He was amazed I found most of my costume in my closet. I won't even tell him what's stored in the attic and down at the barn. And yes, I still have my great-grandmother's wood burning stove. Never know when a power grid's going to fail and a stick of wood might come in handy.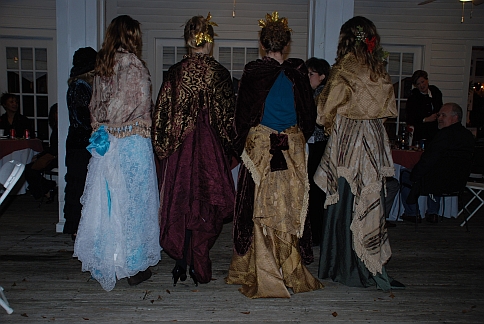 Just a reminder that when economic times may hit us hard, Southerners can still make do. You have to appreciate our creativity. Great job Shower Curtain Girls!
And P.S -- I did not eat like a bird. I tasted most everything on the table and dived into the red velvet cake like a blue bird searching for worms. But I really think it was those chocolate and peanut butter concoctions that added those two extra pounds. All worth it!



Comments anyone?

If you would like to comment or have questions about this article, email me vmoss@livingwaterfiction.com







Miss Vicki,

Your picture at the Lightning Bug Festival was beautiful.I showed the picture to my husband and he agreed. I also wanted to tell you how much I enjoy your blog. Have a wonderful Christmas.

Blessings,

Dee Dee Parker

author of Josie Jo's Got to Know

The proceeds of Josie Jo's Got to Know goes to breast cancer awareness and patient expenses. Thank you for the promotion of a cause that is close to my heart. Blessings.

josiejo.com







Thanks for the very nice compliment Dee Dee. Hoping you and yours enjoy celebrating the birthday of Christ. Merry Christmas!





Vicki, I looooved your blog! And I tremendously admired your creativity in getting that costume together! And helping the other? Wow. That's all I can manage is a breathy "WOW!" You are something else. Hugs, Emily Sue Harvey ~author of Cocoon



Thanks so much Susie! My outfit was pretty simple to throw together. But one of the mom's helped the Shower Curtain Girls. Those gals get all of the credit--I just wish I was that creative!




Great article! ~ Lisa Alsobrooks



Glad you stopped by Lisa.

I enjoyed your article. ~ Brantley Bryant

Glad you enjoyed it Brantley!

Shower curtains? Who knew?! ~Kc Frantzen


I know Kc -- I wouldn't have known if they hadn't told me. Amazing what you can do with shower curtains and a few safety pins. I have used a safety pin as a fish hook, but never used one to make a bustle.







---

Blog Archives

Animal Articles
Berry College Articles
Book Reviews
Civil War Articles
Elvis Trivia
Emily Sue Harvey's Books
Fish
Flower Articles
Holiday Articles
Inspirational Articles
Military Articles
Music Articles
Places
Poetry Articles
Recipes
Tootie Trails and Travails
Writing Articles
Rendezvous With Destiny



---
-- Welcome -- About Me -- Blog -- Speaker Topics -- Fiction -- Non-Fiction -- Young Adult -- Kids -- Inspirational -- Awards --

---
-- View -- Memoir -- Flowers -- Tea Time -- Photos -- Poetry -- Faq -- Links -- My Garden -- Bookstore -- General Store --
---
Contact Information