~ Vicki's Blog ~


---
-- Welcome -- About Me -- Fiction -- Non-Fiction -- Poetry -- Inspirational -- Young Adult -- Kids -- Awards --

---
-- View -- Memoir -- My Garden -- Flowers -- Tea Time -- Photos -- Faq -- Blog -- Store -- Links --
---




Posted August 8, 2010
"THE TORTOISE AND THE LION"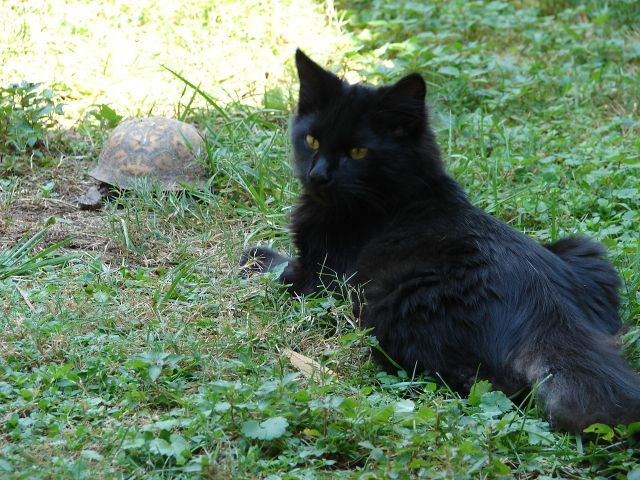 The tortoise put down his lunch pail and all of the little wee tortoises gathered around while mother tortoise put the last finishing touches on supper - human toe soup. "Tell us about your day Papa! Was it scary out there in the big bad world?"
Old tortoise chuckled and replied, "Everyday is a scary day out in the big bad world. It's a jungle out there. But let me tell you about my journey home today." The wee tortoises gathered around his shell, eyes wide and blinking to hear the tale. "I was ambling home when I saw a dark shadow creeping up behind me. I began to pray: 'Dear Lord, I've worked all day and I'm just trying to make my way home. O Lord my God, I take refuge in You; save and deliver me from all who pursue me or they will tear me like a lion and rip me to pieces with no one to rescue me. Rescue me from the mouth of the lions. There's a big black lion with glowing amber eyes breathing down my back, Lord. I think he's been in Mrs. Cramer's trash because I smell garlic on his hot breath. Remember You are my shepherd, I shall not be in want. You make me lie down in green pastures, You lead me beside quiet water, You restore my soul. You guide me in paths of righteousness for Your name's sake. Even though I walk through the valley of the shadow of death, I will fear no evil, for You are with me; Your rod and Your staff, they comfort me. You prepare a table before me in the presence of my enemies, You anoint my head with oil; my cup overflows. Surely goodness and love will follow me all the days of my life, and I will dwell in the house of the Lord forever.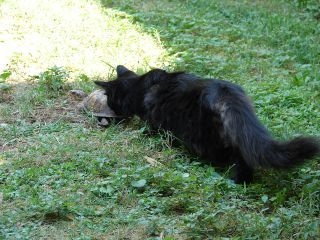 "Wee tortoises, I began to tremble and shake, my shell rattling all around me. I searched for shelter, a hole, a pit, any place where I could hide from the creeping black jaws of destruction. I dared not look back for fear I would be entranced by the lion's glowing yellow eyes and eaten alive on the spot."
The wee tortoises scuttled back, knees knocking as they quivered in their shells. Papa tortoise continued, his head weaving and bobbing back and forth with the telling. " I said, 'Lord, what gain is there in my destruction? In my going down into the pit? Will the dust praise You? Will it proclaim your faithfulness? Hear, O Lord, and be merciful to me; O Lord, be my help. You know Lord, I can hear that sleek lion slandering me. There is terror on every side. He conspires against me and plots to take my life. But I trust in You, O Lord; I say, 'You are my God. My times are in Your hands; deliver me from my enemies and from those who pursue me. Let your face shine on Your servant; save me in Your unfailing love.'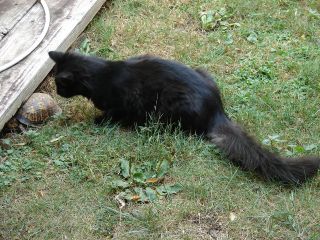 "And then I prayed even harder. 'Answer me, O Lord, out of the goodness of your love; in Your great mercy turn to me. Do not hide Your face from Your servant; answer me quickly, for I am in trouble. Come near and resue me; redeem me because of my foes. Help me O God our Savior, for the glory of Your name; deliver me and forgive my sins for Your name's sake.
"Be strong and take heart, all you who hope in the Lord. I'm hoping Lord, about all I have left is hope.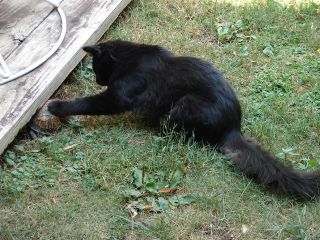 "I've been calling to you God, and the Lord saves me, evening, morning and noon I cry out in distress, and You hear my voice. I know You hear my voice. You ransom me unharmed from the battle waged against me, even though many oppose me. And I'm trying to be still and know that You are God.
"And then," said Papa tortoise in a small whisper, "I felt a breeze." The wee tortoises leaned closer to better hear his words. "It was like a soothing calm settled over me and I remembered these words: 'But the plans of the Lord stand firm forever, the purposes of His heart through all generations. The lions may grow weak and hungry but those who seek the Lord lack for no good thing. O Lord, You preserve both man and beast. How priceless is Your unfailing love.'


"And then my wee tortoises, I saw the light and heard a still small whisper in the breeze. 'Tortoise, be still and know that I am God; I will be exalted among the nations, I will be exalted in the earth. Because I love you, I will rescue you. I will protect you, for you acknowledge My name. You will call upon Me, and I will answer you; I will be with you in trouble, I will deliver you and honor you. With long life will I satisfy you and show you My salvation."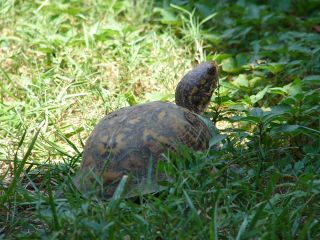 "So, I, the slow tortoise that I am, shouted with joy to God, all the earth!" The wee tortoises fell back in surprise, rolling around on their backs like a roly-poly tipped over. Papa tortoise bellowed, "I sung the glory of His name; made His praise glorious! I said to God, 'How awesome are Your deeds! So great is Your power that Your enemies cringe before You. All the earth bows down to You; they sing praise to You, they sing praise to Your name. Come and listen, all You who respect and fear God; let me tell you what He has done for me. I cried out to Him with my mouth; His praise was on my tongue. If I had cherished sin in my heart, the Lord would not have listened; but God has surely listened and heard my voice in prayer. Praise be to God, who has not rejected my prayer or withheld His love from me. Then we your people, the sheep and tortoises of your pasture, will praise you forever; from generation to generation we will recount your praise.
And when Mama tortoise called out, "Human toe soup is on the table!" Papa tortoise licked his lips blinked his eyes and said, "And that, my wee tortoises, is how Papa tortoise made his way home from work through the jungle."


Bible verses used by Papa tortoise come from the NIV;
Ps 7:12
Ps 22:21
Ps 23
Ps 30:9-10
Ps31:13-15
Ps 9:16-20
Ps 79:9
Ps 31:24
Ps 33:1
Ps 33:11
Ps 34:10
Ps 36:6-7
Ps 40:1-3
Ps 46-10
Ps 55:16-18
PS 66:16-20
Ps 79:13
Ps 91:14-16

Photo credit - Kathy.





---
-- Welcome -- About Me -- Fiction -- Non-Fiction -- Poetry -- Inspirational -- Young Adult -- Kids -- Awards --

---
-- View -- Memoir -- My Garden -- Flowers -- Tea Time -- Photos -- Faq -- Blog -- Store -- Links --
---
Contact Information