~ Vicki's Blog ~


---
-- Welcome -- About Me -- Fiction -- Non-Fiction -- Poetry -- Inspirational -- Young Adult -- Kids -- Awards --

---
-- View -- Memoir -- My Garden -- Flowers -- Tea Time -- Photos -- Faq -- Blog -- Store -- Links --
---
Posted May 15, 2010
PHILIP LYNOTT
BLACK ROSE ROCKER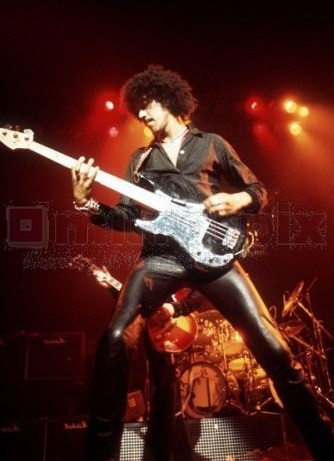 I recently received a forward - one of those with spectacular pictures accompanied by a memorable song that moves the heart and makes the eyes rain. The music and lyrics mesmerized me and I Googled a phrase from a verse to see who was singing it. Gary Moore was the artist and the song was "Still Got the Blues." I discovered that at one time Moore played guitar for Thin Lizzy. The name of the band was vaguely familiar. With more research, I discovered Philip Lynott started the Irish rock band in 1969. Their only song I remembered that made the charts in the USA was, "The Boys Are Back in Town." So that's who wrote and sung that song that was popular in the '70's and still played on the radio today! During the early seventies, most teens wouldn't be caught dead listening to singers who sported Gospel hair, nor was country cool back then. It was before I'd heard that the Resurrection Band and Steven Curtis Chapman had plugged Jesus into an amplifier.
And I know, it was a given that anybody with long hair wearing leather pants and a guitar strapped across their chest was suspect to a drug search. But that was the music we listened to unless we watched Buck Owens plunk a guitar singing, "I've got a tiger by the tail," on Hee Haw followed by Lawrence Welk dancing along to German polkas with our parents on Saturday nights because we had only one television. It was also a given that sex, drugs, and alcohol was part of the rock scene for a lot of people, especially the rock singers. Very few bands could escape the temptations. It was like Scott Gorham, another Thin Lizzy guitarist, said in an interview with That Metal Show when asked "How bad were you guys partying?" Gorham laughed and said, "Let's just get down to the dirt. We were making the cash and getting slapped on the back quite a bit. Young guys. Got the spotlight on ya buddy…everything's available…it was easy." He later said, "I had to get out of it to keep my sanity. It's a sad day when a man who has so much talent and vision can be taken away so suddenly."
He was referring to Philip Lynott, leader of the band, and his death on January 4, 1986 from pneumonia, internal abcesses, and septicaemia brought on by drug dependency. What would make someone who was on a rocker's roll with two beautiful young daughters - a man who loved his family - make it to the crossroads and choose the devil's route? Fame and fortune fueled by excess.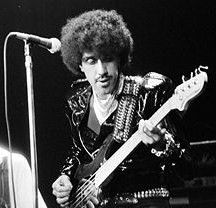 The more I learned about Lynott, the more intriguing the man was. His was a charismatic and charming personality and he had a way with words. No wonder so many kids made him their idol. His star's light first began to shine when Philomena, his mother, was a seventeen-year-old Irish immigrant to England like so many struggling to find work after World War II. She became pregnant by an African Brazilian during a time when interracial dating was frowned upon. Sent to Ireland to live with his grandmother, her baby was loved and nurtured within the family. But in that part of the world, he was the only one with a dark complexion. Within a less than warm environment - one also dogged by poverty - many a day found him throwing a punch to defend himself.
Sometimes, adversity causes a young soul to rise like cream to the top, and Phil was determined to rise above it all. He became a brilliant song writer with an additional three books of poetry added to his accomplishments. Like some other rock stars who succumbed to drugs, he allowed himself to be deceived and his flame was snuffed out before his time. It wasn't like he was a bad person bent on self-destruction. He had a vision for the band and worked hard at making them successful.
On further investigation, I discovered he'd been brought up in the Catholic faith and his religious background seeped into some of his lyrics along with songs about his mother and two daughters, Sarah and Cathleen. What kind of rock star would write a song about his mother, Philomena, and title it Philomena? Not many. After watching some YouTube videos, I also witnessed him dedicating "I'm Still In Love With You" to his mother when she was attending a concert. And if a curse word slipped out during a performance, he apologized - "Oh, sorry for cursing, Mother."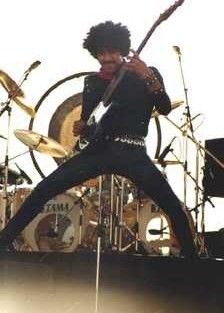 Philomena had sacrificed to keep her baby from being put up for adoption early on and their bond couldn't be broken even though Philip had been labeled a half-caste and later penned a song about his lineage giving it the same title. His wounds cut deep.
I was surprised that Phil wrote songs about God. "Little Bit of Water" revealed he was honoring God with some of his songwriting." Then again with a letter/song to God, Lynott pleads with God to hear this call and save his fall, a prophetic line if there ever was one. He'd also written a song titled "Got to Give it Up." Some of the other band members were able to find help and quit the stuff to keep their sanity but Phil wasn't so lucky. He knew he had a problem.
One song, "The Sun Goes Down" began with a revelation about a demon. In one interview about his drug habit Lynott said, "I don't particularly think I was an addict as such. I messed around with it enough and I know enough addicts. Second of all, I don't think the battle is over. The battle never actually ends with the drug. The frightening thing about heroin is it's… without trying to glamourize the drug at all, it's very enjoyable to take…it cuts off reality…if you've got a lot of problems…how enjoyable it can be…but after the initial phase you become dependent on the drug…mentally that battle will continue the rest of my life." He was obviously in denial about his addiction, as most addicts are and died at thirty-six.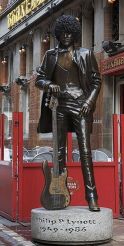 One of his songs was titled Roisin Dubh (prounounced Ro-sheen Dove) and in English the Irish words translate Black Rose, a fitting nom de plume for a gifted writer such as Phil. After he lost his battle with his demons, a statue of Lynott was erected on Harry Street - off of Dublin's famous Grafton Street. Philomena campaigned heavily against drugs after her son's death. I hope the Black Rose Rocker found peace with his Savior in the end and is now singing with the angels as his legend even now lives on.
If only future generations could learn from Phil's mistakes and when reaching their crossroads take the higher path which is found by first taking the narrow road.
"Enter through the narrow gate. For wide is the gate and broad is the road that leads to destruction, and many enter through it. But small is the gate and narrow the road that leads to life, and only a few find it." Matthew 7:13-14 .




---
-- Welcome -- About Me -- Fiction -- Non-Fiction -- Poetry -- Inspirational -- Young Adult -- Kids -- Awards --

---
-- View -- Memoir -- My Garden -- Flowers -- Tea Time -- Photos -- Faq -- Blog -- Store -- Links --
---
Contact Information