~ Vicki Moss's Blog ~


---
-- Welcome -- About Me -- Blog -- Speaker Topics -- Fiction -- Non-Fiction -- Young Adult -- Kids -- Inspirational -- Awards --

---
-- View -- Memoir -- Flowers -- Tea Time -- Photos -- Poetry -- Faq -- Links -- My Garden -- Bookstore -- General Store --
---









Scroll down to the bottom for archived articles



---

Posted June 26, 2013


LURLENE MCDANIEL
THE QUEEN OF MELODRAMA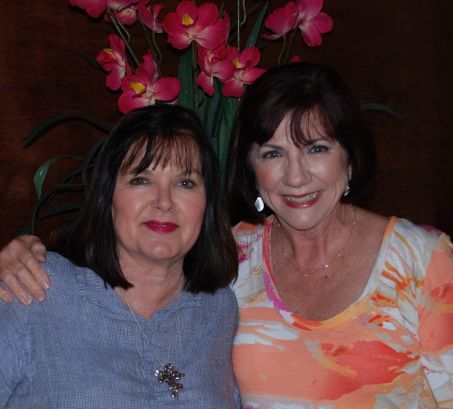 Yesterday, I had lunch with my dear friend the "crying and dying lady"--Lurlene McDaniel--the writer who has written over 50 books for teens about challenging topics and uncomfortable moments. To her fans, she's worthy of rock star status. One fan was even inspired to go to medical school after reading Six Months to Live--a book about teen friends battling cancer.
Not long ago, Lurlene returned from a whirlwind book tour across the United States--Random House's first-ever LIFE ACTUALLY tour! From May 13th to June 4th 2013, Lurlene and 13 other YA authors toured the country to celebrate "the powerful resonance of realistic novels for teens." And yes, I'll admit it, I live vicariously through Lurlene.
*sigh*
I couldn't wait for her to get back home to hear about her trip. She doesn't have to worry about rental cars, road maps, and how to navigate through traffic in cities like San Francisco, New York, and Los Angeles. Her drivers and handlers take care of all worries. All Lurlene has to do is decide--shall I wear purple sparkly today or turquoise? Or maybe a splash of tangerine?
But not all in life is glamorous and sparkly. While we squeezed lime slices into our water glasses, I discovered Lurlene experiences uncomfortable moments like the rest of us. There was that one root canal she endured…
*cringe*
Right before it was time for her to leave on her trip, she had the first visit to the dentist for part of her "root" extraction and as everyone who's experienced a root canal knows, there's the second visit to make sure all has been…er…extracted…let's just say the entire episodic scene hadn't yet been written and there were times when she experienced excruciating pain while signing books for her many fans before she was able to get back to the dentist for the second procedure.
*ouch*
Known for her melodrama--trust me, Lurlene is the queen of melodrama--she will find some way to use that experience in one of her next books. She never lets a chaotic moment go to waste. Trooper that she is, however, she splashed her vivacious self across the continent meeting young fans discovering her books for the first time and also those dedicated fans who are now grown women who have waited for The Year of Lumninous Love and
upcoming novels about more mature characters who have graduated from high school. And I will say this, the wait was worth it! Lurlene is still pounding the keys and turning out wonderful stories. And I always have so many questions to ask her.
I did pin her down on this one: "The writing life is really hard. You have to be dedicated. It's work. Do you ever think about moving to the beach and kicking up your feet and becoming a beach bum?" Lurlene was quick to shoot back, "And do what? This is what I do. Write. And I love writing and I'll keep doing it for as long as I can."
So, for all of you fans out there, your favorite writer isn't going anywhere unless it's to the next exotic locale to do research for an upcoming book. I can only hope she'll ask me to go with her if I do nothing more than figure the tips for lunch. The woman can write but she's horrid at math. But then, she's the first to admit it.
And one thing you may not have known about Lurlene--without giving away too many of her secrets-heh-heh--she can do a lot of damage to a cherry cobbler!
Let me know if there are any questions you want me to ask her the next time I see her--I'll squeeze her like a lime and extract the truth and nothing but the truth. Just don't ask me to get the troubling details about her root canal--you can probably read about that nitty-gritty in one of her upcoming fiction masterpieces. I'm sure she'll at some point include a character with a horrendous toothache.
*bigger sigh*
Oh…the life of a drama queen diva… er…did I say diva? I meant writer!



Comments anyone?


If you would like to comment or have questions about this article, email me vmoss@livingwaterfiction.com



---
Blog Archives
Animal Articles
Berry College Articles
Book Reviews
Civil War Articles
Elvis Trivia
Emily Sue Harvey's Books
Fish
Flower Articles
Holiday Articles
Inspirational Articles
Military Articles
Music Articles
Places
Poetry Articles
Recipes
Tootie Trails and Travails
Writing Articles
Rendezvous With Destiny
---
-- Welcome -- About Me -- Blog -- Speaker Topics -- Fiction -- Non-Fiction -- Young Adult -- Kids -- Inspirational -- Awards --

---
-- View -- Memoir -- Flowers -- Tea Time -- Photos -- Poetry -- Faq -- Links -- My Garden -- Bookstore -- General Store --
---
Contact Information