~ Vicki's Blog ~


---
-- Welcome -- About Me -- Fiction -- Non-Fiction -- Poetry -- Inspirational -- Young Adult -- Kids -- Awards --

---
-- View -- Memoir -- My Garden -- Flowers -- Tea Time -- Photos -- Faq -- Blog -- Store -- Links --
---
Posted September 6, 2009
THE GENTLEMEN'S CONSPIRACY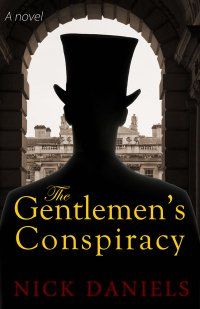 Amateur geologist Daniel Young discovers a plot to overthrow the king of England while investigating his friend's murder. Separated from the woman he hopes to one day marry, he struggles with a faith he's forgotten as he uncovers a conspiracy that could destroy him along with the foundation of Christianity itself.


With his first novel, Nick Daniels has managed to weave a tale of intrigue, romance, mystery and murder. A former science journalist, Nick uses his knowledge of historical facts and Biblical truths to create a believable plot incorporating the beliefs of prominent scientists of the 18th and 19th centuries.


A fast paced read, the author takes us behind the doors of secret societies and into the fictitious drawing rooms of those who've left their thoughts and ideas in leather bound tomes for us to ponder.


The Gentlemen's Conspiracy will definitely invoke the question - what if?





---
-- Welcome -- About Me -- Fiction -- Non-Fiction -- Poetry -- Inspirational -- Young Adult -- Kids -- Awards --

---
-- View -- Memoir -- My Garden -- Flowers -- Tea Time -- Photos -- Faq -- Blog -- Store -- Links --
---
Contact Information