~ Vicki's Blog Archive ~


---
-- Welcome -- About Me -- Fiction -- Non-Fiction -- Poetry -- Inspirational -- Young Adult -- Kids -- Awards --

---
-- View -- Memoir -- My Garden -- Flowers -- Tea Time -- Photos -- Faq -- Blog -- Store -- Links --
---
Posted December 19, 2009




THE CHRISTMAS WREATH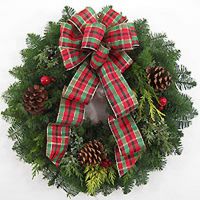 As I hang my Christmas wreaths, I'm reminded that a circle has no beginning and no end. The greenery is made of evergreen leaves and branches, a symbol of everlasting life, God's everlasting love, as well as a symbol of faith.

It wasn't until the 15th century that the wreath became a hanging decoration. The color green symbolized hope and new life. An old English word, writhen, meant to writhe and twist. By twisting and bending evergreen branches into a circular shape, wreaths could also be formed into a headress that was given to military hero's, Olympic athletes, and kings. Members of the aristocracy enhanced their wreaths by adding jewels and precious metals.

The Bible associates wreaths with joy, triumph, and honor. In 2 Timothy 4:7-8, Paul says, "I have fought the good fight, I have finished the race, I have kept the faith. Now there is in store for me the crown of righteousness, which the Lord, the righteous Judge, will award to me on that day - and not only to me, but also to all who have longed for his appearing."

And as I write, I'm reminded of the crown or wreath of thorns placed on the head of Jesus for mockery. My thoughts go back, full circle, to a manger in a stable. And I remember why I hang wreaths in the first place - to celebrate His birth.

As I prepare for the birthday celebration of Jesus, what present can I possibly afford to bring to a King?






---
-- Welcome -- About Me -- Fiction -- Non-Fiction -- Poetry -- Inspirational -- Young Adult -- Kids -- Awards --

---
-- View -- Memoir -- My Garden -- Flowers -- Tea Time -- Photos -- Faq -- Blog -- Store -- Links --
---
Contact Information