~ Vicki's Blog ~


---
-- Welcome -- About Me -- Fiction -- Non-Fiction -- Poetry -- Inspirational -- Young Adult -- Kids -- Awards --

---
-- View -- Memoir -- My Garden -- Flowers -- Tea Time -- Photos -- Faq -- Blog -- Store -- Links --
---
Posted May 15, 2010
ARMED FORCES DAY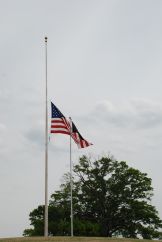 Today is Armed Forces day and time to send a big thank you out to the men and women who are fighting to keep our country free. In years past, I can remember when it meant a half day out of school to go downtown to watch the Armed Forces Day parade. At that time we weren't fighting a war.
Today, it means something entirely different. This day is presently a reminder that without our Armed Forces, I might not be able to go anywhere in this country to enjoy a parade of any kind.
So thanks troops and come home safely.
Check out the blog archives for previous articles about our brave men and women.
The Price of Freedom
Rendezvous With Destiny
Hug a Soldier
Jamestown








---
-- Welcome -- About Me -- Fiction -- Non-Fiction -- Poetry -- Inspirational -- Young Adult -- Kids -- Awards --

---
-- View -- Memoir -- My Garden -- Flowers -- Tea Time -- Photos -- Faq -- Blog -- Store -- Links --
---
Contact Information